ChatGPT: The Future of Content Creation For SEO
ChatGPT has become the talk of the town since its release in November 2022. It has recently launched the upgraded version named ChatGPT-4, which is probably one of the best available AI tools for content creation right now.
ChatGPT's refined features have enticed marketers to utilize it for their content creation needs. Previously search engines, especially Google, had rigorous policies against AI content.
Thousands of websites got affected and deindexed due to the AI content. But with the rise of ChatGPT, Google has regularized its content policies.
How ChatGPT Works?
It is basically an AI language model that generates content based on user search queries. This Chatbot works on the command prompts put by the users.
GPT stands for Generative Pretrained Transformer which is an ML model for text generation. ChatGPT can do many tasks like answering questions, code writing, copywriting, and content writing that can lessen your workload.
It has basically two versions that are currently available for users.
Free Version
Its free version is for anyone who signs up using a Google account or an email address. Due to the high demand, it mostly shows over capacity, and users need to refresh the page for new search prompts.
This version comprises basic features for data scrapping, and display in form of text and tables as per the requirements.
Paid Version or ChatGPT Plus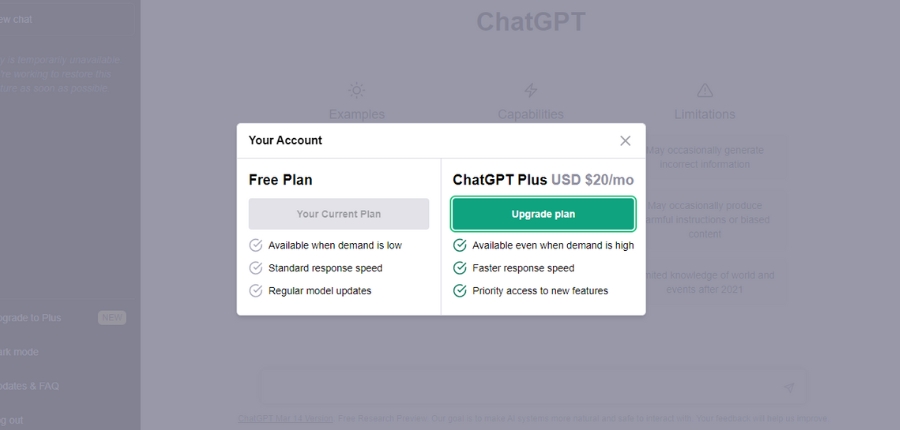 ChatGPT was initially a free AI tool for all without any downtime issues. Due to a massive influx of users, the company decided to launch a paid version or ChatGPT Plus for those who need more features and priority access.
This version has no downtime or search limitations and can be upgraded for faster response time. The latest upgraded version named ChatGPT-4 is also accessible to ChatGPT Plus users.
Importance of SEO In Content Marketing
SEO is an important pillar of content marketing strategies for business scaling and growth. It has long-term goals and benefits.
Businesses invest in SEO to bring more people to their websites or app through search engines. You can't rely on a single source like social media marketing, search engine marketing, and affiliate marketing.
SEO has one of the highest ROIs, up to 500%, which means you get $5 in return for every single dollar invested in it.
The major difference between SEO and other content marketing sources is continuity. If you stop investing in PPC, SMM, and affiliate marketing, you will stop getting visitors.
While a top-ranking page or post in a search engine can give you thousands of free traffic over the years even if you stop investing in SEO.
More importantly, you can do interest and intent-based content optimization that helps in generating leads and conversions.
The evolution of AI will further improve search results and attract more possibilities to get visitors. Top search engines like Google and Bing are already competing with each other to give better user experiences to visitors.
Benefits Of ChatGPT For SEO Content Writing
There are multiple ways to take advantage of ChatGPT in writing SEO-optimized content. We will discuss a few of them below.
Topic Ideas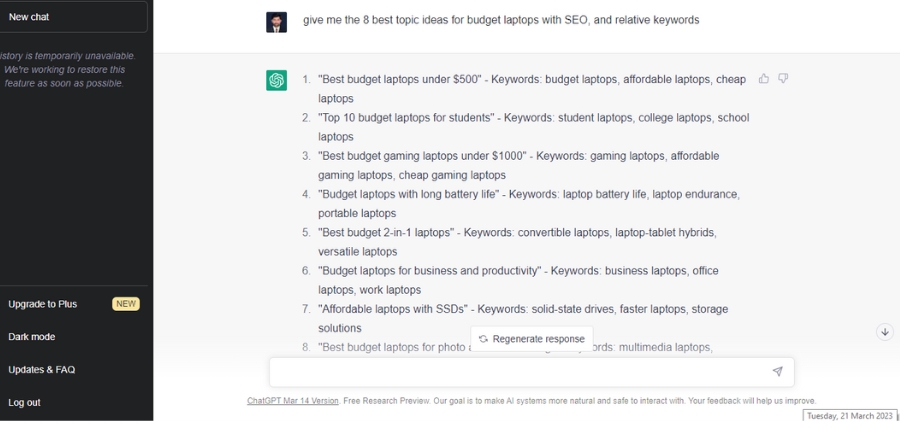 You can use ChatGPT prompts to get topic ideas for your content needs. For example, you are writing content around laptops. Put " Give me the 8 best topic ideas for budget laptops with SEO, and relative keywords."
The results will surprise you. You can pick any of the topics and check the keyword competition, difficulty, and search volume before writing the content.
Keyword Analysis
It can be used in analyzing specific keywords, their difficulty, search volume, and more. You can also use it to find the long-tail keywords related to the content topic.
Adding seed keywords or long tail keywords increases the chance of your ranking in SERP on different user queries and grabbing featured snippets.
Content coverage is the apparent advantage of using seed keywords that increases the site authority in any topic, category, or niche.
Unique Titles And Meta Descriptions
ChatGPT helps in generating unique and catchy titles for your content that help in boosting the CTR(Click Through Rate). Although meta description is no more an SEO ranking factor, however, it gives precision to the search results.
If you don't add a meta description, the search engine will pick the random content from your post, that sometimes leaves a bad taste in terms of user experience.
Content Outline
Content outline is the major headache for content writers in crafting useful content. This amazing AI tool can create a perfect outline around your topic, covering all the relevant sub-topics as well.
Instead of manually searching or going through different blog posts, you can ask ChatGPT to give a comprehensive and SEO-oriented content outline.
Content Relevancy And Personalization
ChatGPT helps in crafting and optimizing content as per the user intent. A search-relevant content is more likely to rank in the SERP instead of a random one.
Better-personalized content on user preferences can enhance conversion rate and engagement. Which is good for achieving business objectives.
Content Quality
Most of the time ChatGPT gives unique and quality content without any plagiarism issues. Moreover, you don't need to worry about Grammar and spelling mistakes.
It can produce high-quality content without any duplication and readability issues. That is good if you are aiming for bulk content creation.
This means you don't need to pay for rephrasing or Grammar optimization tools. ChatGPT does everything at its best.
Unique Images Creation
ChatGPT-4 has the ability to create unique images around any search query. Which will be useful to add featured images and infographics to your content.
That will also reduce the cost of hiring a graphic designer and purchasing unique images from sites like Shutterstock, iStock, etc.
Multilingual Content
Multilingual content enhances the global visibility of any business and attracts more people onboard.
ChatGPT has the proficiency to generate content in multiple languages following the SEO goals. That means it will reduce the role of native writers in the coming days.
In-Depth Insights
ChatGPT has the ability to analyze keywords data, like search volume and difficulty. It follows the latest trends and crafts SEO-optimized content around them.
It will be more trained in the upcoming versions and will cover the new ideas that a human writer can not uncover.
Time And Speed
You can create bulk SEO content quickly by saving a lot of time. ChatGPT has saved the time most content writers used to consume on research and creating outlines.
It has also reduced the content creation cost. Correct use of this amazing AI tool can help your business thrive faster.
Drawbacks Of ChatGPT In SEO Content Writing
Despite many advantages, ChatGPT lacks in many things. Here are a few drawbacks that can be points of concern in SEO content writing.
Lack Of Content Originality
Duplicate or plagiarised content is the biggest concern in SEO. That can result in penalties from search engines. Sometimes the whole site gets penalized and deindexed.
ChatGPT uses pre-indexed data to generate unique content. Which needs to be reviewed before publishing.
Narrow Creativity
Good content means that is acceptable for both search engines and readers. The content that ranks but no one reads is worthless.
ChatGPT has limited creativity and the ability to write engaging content. The interestless content may result in a higher bounce rate and low user engagement.
Search engines replace such pages with the better ones in SERP which results in losing valuable traffic.
Context Understanding
ChatGPT is not that smart to understand the feelings and context behind the inquiry. It may generate random content that will further increase confusion among readers.
Such content badly impacts the user experience and page ranking. This inability highlights the importance of human involvement in content creation.
Limited Output Control
ChatGPT basically relies on user input and gives the best matching results. The content output may not align with your search query and brand voice.
The better prompts you use, the more refined content it generates. This limited output control sometimes results in generating less authentic content that couldn't connect with your targeted audience.
Niche Expertise
Niche expertise is an important factor for credibility and user retention. ChatGPT lacks in this perspective. It can be useful for simple and non-sensitive topics.
However, it won't be valuable in sensitive niches like medical and pet advice. That means human involvement in content creation is mandatory to establish the credibility of the content and website.
Integration Of ChatGPT Content In Your SEO Strategy
ChatGPT generates raw content that needs to be integrated into the SEO strategy. Here few useful methods to do this.
Keyword Research
Keyword research is the first step in writing SEO-optimized content. Find the relative keywords by using SEO tools like SEMrush, Ahrefs, and Surfer SEO.
Then include the selected keywords in ChatGPT prompts to generate the SEO-optimized content for search engines. The right use of this AI tool can give you multiple benefits to successfully implement your SEO strategy.
Content Optimization
Adding AI content directly to your pages or blog posts can be a risky thing. You must manually optimize it by adding keywords in the title, subheadings, and content body.
Content must be meaningful, readable, and engaging. This will increase user retention and trust to build a community.
Images And Infographics
Images and infographics are an important part of SEO content creation. They help in ranking faster and earning high-quality links to increase authority.
Create unique featured images and infographics by using the latest version of ChatGPT. Bing and Microsoft have already introduced this feature in their chat option.
Now you can ask AI to create unique and catchy images around any search query. The results will surprise you with precision and creativity.
Use A/B Testing
A/B testing is the best way to analyze the performance of human and AI-generated content. Create 2 blog posts. One with ChatGPT and the other with an SEO content writer.
Publish them at the same time and monitor their performance using Google Analytics and Search Console. This way you can track different metrics like user engagement and conversion rate.
If the AI content is performing then keep on the same strategy, and in other cases make it search engine friendly before publishing.
AI Tools And The Future Of Content Creation
With the rise of modern AI tools like ChatGPT and Bard, it is important for content creators to stay with the latest content creation trends.
No one can deny their usefulness in workflow and productivity. Integration of ChatGPT into your content creation strategy can save a lot of time and effort.
AI-powered tools can increase business productivity by up to 40% which can be helpful in scaling startups. There are thousands of AI startups in the development phase and dozens are launched every day.
The AI market growth says everything about the resourcefulness and adaptability of AI tools. In future predictions, only AI-adaptive businesses and marketers will survive.
Final Thoughts
As we know, ChatGPT will never be able to replace humans. Because it lacks the emotions and feelings behind the words. The data utilized by ChatGPT is up to Sep 2021 which clearly indicates its incapacity.
So, you always need to review the content generated by AI and optimize to make it search-engine friendly.
Google has also released its AI chatbot named Bard recently. That will revolutionize the whole SERP. It will be time-saving and more useful for the users.
Frequently Asked Questions
Can ChatGPT automate keyword research?
With its ability to analyze user behavior and search data, ChatGPT can automate keyword research and optimization. That can save a lot of time and resources used in the process.
Does Google accept AI content?
Yes, Google has recently revised its content guidelines. Useful and unique AI-generated content doesn't violate its policies.
However, it is better to manually review and optimize ChatGPT content for long-term goals and benefits.
How to use ChatGPT for link building?
You can use ChatGPT for link building in your Off-page SEO strategy. It can help you in writing guest post content and making useful infographics that will automatically earn links and traffic from high-authority sites.