What's in your content marketing toolbox?
Today's consumers are thirsty for great content. But crafting compelling content and pushing it out to the right platforms is often easier said than done.
Content marketing is many jobs rolled into one; let's admit it, we could all use a little help!
This is where content marketing tools come in.
From grammar-checkers to AI-driven software and content-optimizing tools, there are tons of handy options to help your content sing.
In this post, I'll cover the top picks for the best content marketing tools available.
1. BuzzSumo
Primary Features: Content research, influencer marketing, content analysis, trending topics, and performance monitoring.
In content writing, the challenge starts long before you type in the first word.
There's an often lengthy research process involved when it comes to generating content ideas, scoping out the competition, and identifying the right target keywords.
BuzzSumo simplifies the content research process by pulling in popular posts based on keywords.
These results can then be sorted according to their reach on social networks like Facebook, Twitter, and Pinterest.
This allows you to scrape the web for content ideas that pique your target audience's interest.
You can also use custom filters to refine your search further.
For example, you can look specifically for "how-to" posts, narrow your search to a specific country, exclude a certain domain, and much more.
Pros:
Customizable to your content marketing goals.
Detailed performance metrics and analytics.
Multi-purpose content planning and marketing features.
Cons:
High cost.
Annual contracts only.
No A/B testing on lower-tier plans.
2. Buffer
Primary Features: Social media content planning, social media content scheduling, user insights, social content analytics, content marketing workflows, and team collaboration.
Buffer is an all-in-one social media content marketing tool that empowers you to grow your audience, engage users with compelling content, and track the performance of your social media content.
In fact, Buffer includes more features than I can think to exclude from this list!
Buffer will help you determine the best days, times, and channels to publish your content, what content resonates most with your audience, and what content you should publish next.
You can tap into their content marketing analytics, user insights, engagement data tools, and more.
Pros:
All-in-one social media content marketing tools.
Plan, schedule, publish, and monitor content in one dashboard.
Collaborate with your team and streamline your workflow.
Very affordable.
Cons:
Limited to social media channels.
No SEO tools.
The "Free" tier has limited analytics features.
3. Semrush
Primary Features: Keyword research, keyword gap analysis, competitor analysis, content editor, and social insights.
Semrush is a favorite amongst SEO professionals due to the wealth of data and insights it provides, not only when it comes to SEO, but also competitor research, content creation, and link building.
Semrush is a premium SEO tool (with a limited free version) that allows users to research target keywords, look at their competitor's content strategy, identify backlink opportunities, and inform their paid advertising strategy.
You can use the Keyword Magic Tool to find high-search volume, low-competition keywords to turn into a webpage and blog post ideas.
Then, you can use the SEO Content Template and SEO Writing Assistant to optimize your content for search engines better.
This will help you increase your organic traffic, attract backlinks, and stand out from the competition.
Pros:
Free and paid subscriptions.
All-in-one SEO and content tool.
Easy-to-use interface.
Cons:
High cost of Guru and enterprise tiers.
Limited social media marketing tools.
No video content marketing features.
4. Constant Contact
Primary Features: Email templates, email campaigns, email marketing analytics, and A/B testing.
Constant Contact is a cloud-based email marketing platform that empowers business owners and marketers to run highly targeted, engaging email campaigns.
Not only does Constant Contact provide email templates to make crafting email campaigns easier than ever, but you can track the success of these campaigns (open rates, engagement, clicks, and more) all in one place.
You can even create customer surveys, newsletters, and email courses.
Pros:
Free "list building" tools to grow your subscriber base.
A/B test subject lines and email copy.
Track open rates and engagement metrics.
Create landing pages and social media campaigns.
Cons:
High cost for lead gen and customer relationship management (CRM) package.
No built-in SEO features.
5. Asana
Primary Features: Project management, team collaboration, lead tracking, content workflows, automation.
Asana is a project management tool that allows teams to collaborate on projects, monitor deadlines, share details, and more.
Within Asana, you can assign user tasks, add comments, check project status, and share documents with other team members.
This makes it easy to stay on deadline and ensure quality control for your content.
Pros:
Super customizable to your business goals and projects.
Cross-user and cross-team collaboration.
Create tasks, set deadlines, share materials, and automate workflows.
Cons:
(Somewhat) steep learning curve.
No built-in content planning features.
No SEO features.
6. Surfer SEO
Primary Features: SERP analysis, content outlines, content editor, competitor research.
Surfer SEO is one of the best tools on the market for SEO content creation.
Essentially, Surfer SEO works to analyze the top-ranking search results for your target keyword.
It provides an array of suggestions to help you create content that will be competitive in search.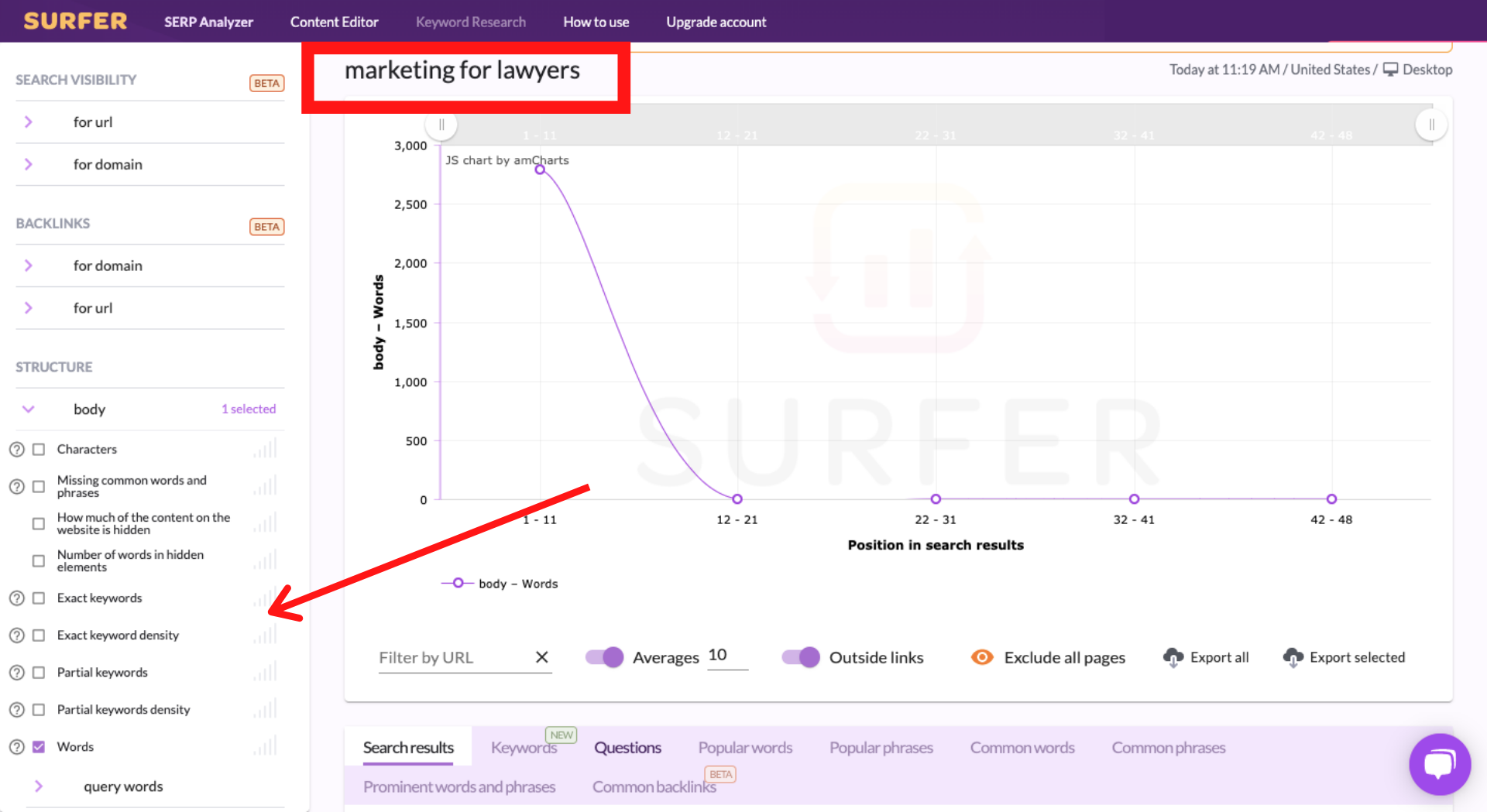 These suggestions might include aiming for a target word count, including your target keyword in your page title, or increasing keyword usage on the page.
Surfer SEO also provides docs allowing you to write, analyze, and optimize your content in one place.
Pros:
Automated search engine results page (SERP) analysis.
Word content and keyword density recommendations.
Create and share content outlines.
Cons:
High cost.
No keyword research tools.
No content scheduling features.
7. Grammarly
Primary Features: Grammar checker, readability checker, Chrome extension.
It's one thing to create content optimized for search engine bots and another altogether to create content that users want to read.
A great content marketer can do both.
With Grammarly, you can improve your content's readability so you drive traffic and encourage users to read your content from start to finish.
Grammarly provides a free Google Chrome plugin that analyzes your content for grammar issues and readability.
Plus, it can be used in Google Docs, on social media, and across various content platforms.
Grammarly takes the stress out of checking your content for spelling errors and readability issues.
You can edit your content in real-time and then rest easy knowing it's error-free and optimized for your audience's reading level.
Pros:
Easy-to-use Chrome extension.
Grammar checker for Google Docs, social media, and email.
Free version available.
Cons:
Does not grammar-check all platforms.
Primarily a grammar-checking/proofreading tool.
8. Ubersuggest
Primary Features: Keyword recommendations, topic ideation.
While intended as a tool for keyword research, Neil Patel's Ubersuggest can also help you find content ideas that will get your audience's attention.
It expands the seed keyword using suggestions from Google Suggest and Google Ads Keyword Planner.
In some cases, Ubersuggest results include keyword ideas that can be used as content titles right off the bat. These are usually long-tail keywords that include three or more terms.
To prioritize them in your search, click the small down arrow next to the "Keywords" column.
With Ubersuggest, you have a near-endless supply of search-worthy content ideas.
Pros:
Keyword data directly from Google Keyword Planner.
Data-driven topic recommendations.
Backlink data available.
Easy-to-use.
Cons:
Limited to web content topic ideas.
No social media planning tools.
No video content marketing features.
9. leadfwd
Primary Features: Website visitor analytics, conversion optimization, lead follow-up.
Leadfwd is a website where you can turn an unknown visitor into a potential lead.
That means if a seemingly anonymous visitor ventures to your site, you may be able to capture their information, follow up, and turn them into a paying customer.
This is a highly valuable tool, particularly for marketers. Lead generation is one of the most important tasks for any digital marketing company.
While the name might suggest that it is not a tool that helps your content creation, the opposite is true.
Since it tells you how visitors spend their time on your website and shows the graph of the session, you can use this information to alter your content and make people spend more time on your website.
In fact, with the use of artificial intelligence (AI), the tool can scan your website in real-time to deliver dozens of insights that help with lead generation and content creation.
For example, the company sector, contact info, key personnel, social footprint, and many more are very much needed to contact the prospect and adapt your content for the right audience.
Pros:
Driven by AI technology.
Captures visitor data in real time.
Streamlines lead follow-up.
Email marketing features.
Cons:
10. Awario
Primary Features: Social listening, social media monitoring, social media content planning.
Awario is a unique tool that lets you monitor and "listen" to people's conversations on social media.
With this feedback, you can better spot and correct any mistakes you're making with your content.
What better way to improve your content than to get feedback directly from users?
This tool allows you to bypass surveys and messenger bots to gain insight directly from the source.
You can use this information to create a better user experience on your website.
Pros:
Detailed sentiment analysis and user analytics.
Create social media alerts.
Influencer monitoring and insights.
Cons:
Specific to social media marketing.
API and White Label features are only available at the Enterprise subscription level.
11. Portent's Content Idea Generator
Primary Features: Blog post topic ideation, related user questions.
Portent's Content Idea Generator is another awesome tool that can give you various content ideas within seconds.
What's better, it's a completely free tool that's simple to use and provides an endless supply of content topics that you can easily turn into blog posts.
Do you often struggle to write click-worthy blog titles?
This tool will help you overcome writer's block and craft engaging titles your audience can't help but click on.
Pros:
Very easy to use.
Great for generating blog post titles.
Free.
Cons:
Limited to blog post topics.
No other content marketing features.
Occasional "weird" outputs.
12. Quora
Primary Features: User questions, authority building, community building.
Sometimes, the best source of attention-grabbing content ideas is the online community itself.
Using Q&A websites like Quora, for example, is a great way to stay in touch with what your target audience is asking.
Simply use the built-in search feature, and a handful of useful suggestions will pop up:
You can comb the Quora results for blog post ideas, questions for your FAQ pages, and more.
You can even leverage Quora to promote your content by offering it as an answer.
This can help your content reach the right people, attract potential backlinks, and generate leads for your business.
Pros:
Easily find user questions for your niche.
Respond to audience questions.
Find brand mentions.
Cons:
Backlinks are not guaranteed.
High competition in responding to user questions.
No other content marketing features.
13. AnswerThePublic
Primary Features: Blog post topic ideation, related user questions.
AnswerThePublic is a free content idea generation tool that provides a "web" of terms or topics users often search for on the web.
Simply enter a primary topic (say, [Pinterest marketing]), and AnswerThePublic will provide a visualization of topics you can turn into blog articles or webpages.
In addition, this tool provides limited data on how these search terms are used, which related terms exist, whether the topics are framed as a question or a comparison, and more.
This is certainly handy if you are completely stumped on what to write about on your blog or social media channels.
Pros:
Easy-to-read "web" of topic ideas.
Free.
Includes related questions and comparison topics.
Cons:
Topic recommendations are not infinite.
No keyword data is provided.
No other content marketing features are included.
14. Slack
Primary Features: Team collaboration, multi-tool integrations, automation, project management.
Slack is perhaps the most popular collaboration tool for businesses, marketers, and teams.
This is due to its user-friendly interface and, let's face it, a fun atmosphere that allows users to share images, documents, memes, videos, and more.
Slack is designed to replace your traditional email communication.
It also adds value to the company's management, as you can monitor when your employees are logging in and out.
How does this relate to content creation?
Well, in any organization, communication among all departments is crucial.
Slack makes it easy to collaborate across departments and ensures that each piece of content passes through the right hands.
For example, your SEO team can easily provide the target keywords for the post, your writer can write the first draft, and your editor can put the finishing touches on your content – all within Slack.
This saves time and expedites the content creation process.
Pros:
Easy-to-use messaging and team collaboration app.
Mobile application available.
Set automated reminders.
Integrates with tons of tools.
Cons:
No built-in content planning tools.
Primarily a team collaboration app.
No content scheduling tools.
15. Google Docs
Primary Features: Content doc, file saver, team collaboration.
If you already use a different communication app and simply need something that helps with file collaboration, then you should check out Google Docs.
This is a minimalistic, cloud-based app that allows you to:
Write content.
Add files.
Include images.
Create to-do lists.
Pretty much everything else you'd expect from a word processor.
You can also invite other users to edit, comment, and share your document.
Google Docs integrates with other online tools, such as Airtable, Typeform, Trello, Google Forms, and many more.
Pros:
Completely free.
Integrates with many other content marketing tools.
Easy-to-use.
Cons:
Limited to content writing, document sharing, and file saving.
No built-in SEO or social media features.
No content scheduling features (though templates are available).
16. Yoast SEO
Primary Features: On-page SEO, WordPress plugin, readability checker.
As a content marketer, you've likely heard of WordPress – the most-used content management system for website creation.
If you currently use it in your projects, then the Yoast SEO plugin is definitely a must-have.
Once installed, Yoast works by rating the readability and SEO-friendliness of your content in real time.
It also highlights the specific issues you need to be mindful of as you work:
You can also use Yoast to set a focus keyword for each individual post.
This will provide you with a checklist of objectives that can ensure the optimization of your content.
Keep in mind that Yoast is not the end-all-be-all when it comes to SEO, though.
You will still want to conduct keyword and competitor research on your own (or use more advanced SEO tools) to ensure your content is optimized.
Pros:
Easy-to-use "SEO checker."
Suggests on-page SEO improvements.
Free.
Cons:
Not a replacement for SEO keyword research.
SEO recommendations do not consider user intent.
Does not include technical SEO.
17. Hemingway App
Primary Features: Readability checker, grammar checker, content editor.
Like Grammarly, the Hemingway App serves as a free online writing assistant but differs in that you paste your content directly into the content editor.
The tool then analyzes your content for readability, passive voice, and any spelling and grammar issues your content may have.
Why does readability matter?
Well, each audience has a certain level of understanding regarding the topic you're writing about.
For example, writing about SEO for marketers will likely involve more complex terms and explanations than if you write for a novice audience.
Tools like Grammarly and the Hemingway App help you pare down your content and write in a way that makes sense to your target audience.
Generally, you should aim for a readability "Grade" of five to eight for most audiences.
Pros:
Easy-to-use grammar-checker.
Free.
Helps improve readability and phrasing.
Cons:
Not an all-in-one proofreading tool.
No built-in SEO features.
18. Inspectlet
Primary Features: Content analytics, performance insights, user behavior insights.
Let's face it: Even the most skilled content marketers have room for improvement.
They only need a clearer view of certain performance metrics to figure out what works, what doesn't, and how to turn these insights into data-driven decisions.
Inspectlet is one of the best content analytics tools to help you accomplish all three goals.
If you are wondering what the visitors have seen and read on your website – and how you can convert them from possible prospects into potential leads – here is the solution.
Inspectlet records a video of user behavior, so you can know how long they were on your website, how they engaged with your content, and which elements grabbed their attention.
This is one of the main advantages of Inspectlet over the other analytic tools in the market.
With this tool, you can also identify where your website is lagging if someone leaves it after facing an issue on your site.
Based on these analytics, you can create your content and make it more appealing to your readers.
Pros:
Analyzes website lag time.
Monitors user engagement and on-site time.
Detailed analytics to inform on-site improvements.
Cons:
Not an all-in-one conversion rate optimization (CRO) tool.
Poor user reviews regarding customer service.
19. Google Analytics
Primary Features: Website traffic analytics, goal tracking, conversion tracking, audience insights, SEO insights.
It's impossible to leave out Google Analytics if we're talking about the top analytics tools.
Google Analytics is a free platform that can help you improve your content, optimize your website, and examine the source(s) of your traffic.
With Google Analytics, you can easily measure important engagement metrics such as page views, average session duration, and bounce rate.
This will allow you to identify specific types of content that appeal to your existing audience.
For example, if you notice that your content on email marketing performs significantly better than other posts, you can double down on that topic to maximize your results.
To learn how to integrate Google Analytics into your website, you can follow a step-by-step guide here.
Discover the different reports and features to leverage from this Search Engine Journal article.
Pros:
In-depth website traffic analytics and insights.
Customizable dashboards.
On-site goals and conversion tracking; can assign monetary value.
Free.
Cons:
Steep learning curve.
Not all keyword data is available.
Data may be influenced by spam and bot traffic (filters available).
20. Raven Tools
Primary Features: Keyword research, competitor research, SERP analysis, backlink analysis, SEO performance data.
Raven Tools provides a full stack of SEO and analytics tools to help you increase your web traffic and optimize your content.
Trusted by thousands of agencies, Raven Tools is a top option for those looking to generate detailed analytics reports and gain insight into creating better content for users.
Raven Tools also provides tools for keyword research, competitor analysis, and backlink analysis to implement a holistic SEO strategy.
You can then track the success of your content in terms of keyword rankings, traffic, and social media shares.
Pros:
Easy-to-use dashboards.
White-label SEO audits/reports available.
(Near) all-in-one SEO tool.
Detailed SEO performance data and insights.
Cons:
High cost.
No social media content features available.
No built-in content editor (compared to Semrush and Surfer SEO).
Conclusion
In the modern marketing landscape, content marketers must often wear many hats to do their jobs effectively.
After all, content is the lifeblood of any digital marketing strategy – the secret sauce that will help you establish your brand online.
You can argue that content marketing isn't all about who has the bigger guns, but tools can make a huge difference in a competitive world.
In this guide, you've discovered some of the top tools for creating amazing content like a pro.
---
Featured Image: Rawpixel.com/Shutterstock